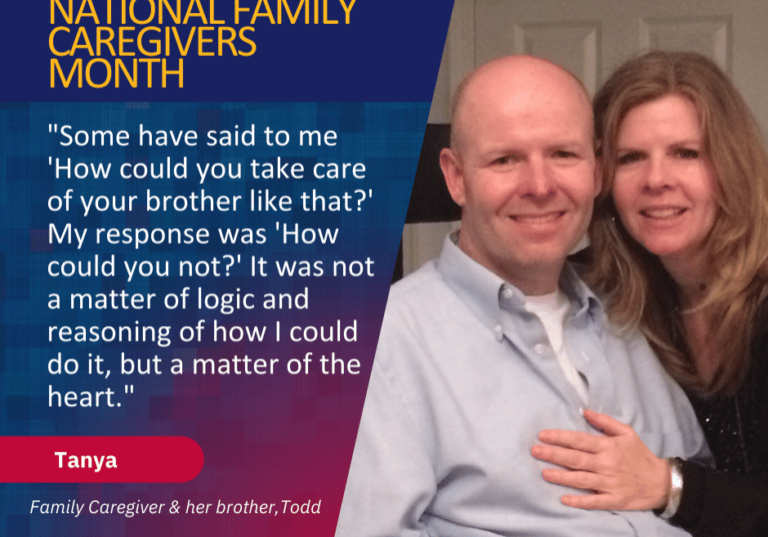 It was a sunny Saturday morning when my dad said to me "Go get ready. We are going to pick up mommy and the baby."  That was the day I met my brother Todd whom I would be enamored with forevermore. 
Todd and I are siblings cut from a similar cloth of personality, values, loyalty, love for family, and for each other. We were always close as siblings and somewhere along the line, we became the best of friends and confidants.  The diagnosis of ALS at the age of 37, just months after the birth of his first and only son, was devastating for him, for me, and all who loved him.
I became my brother Todd's primary caregiver later in his journey of ALS. For the last two years of Todd's life, I had the honor of being his primary caregiver. In a matter of days without preparation or warning, I became responsible for all that was Todd – physical caregiving, liaising with his medical team, making his meals, managing his household, and all the other responsibilities which come from managing the affairs of a fully-disabled person.
One of the biggest challenges was caregiving.  I learned Todd's care routine and handled weekend care and some weekday afternoons and evenings; yet with my own home and job, and only a few existing caregivers, it was not enough.  The thought of institutionalizing Todd at 44 years old was not an option.  I had to build a team.  Finding reliable and capable caregivers is a real challenge, especially for the specialized care of ALS.  After some false starts, a few bad hires, and the grace of God, I was able to find additional caregivers to add to the Todd squad.  We were a team of seven, and we cared for Todd 24/7 which allowed him to remain in the comfort of his own home.  What a blessing.
Caregiving is a rewarding, yet complicated role, for those of us who care for our ALS family members.  We carry the responsibilities of their physical care as any caregiver would, but we as a family also carry the grief of losing them to their former "selves" and the anticipatory grief of one day losing them completely. 
Most days I could feel the sacredness of helping Todd with the everyday tasks of dressing, eating, physical transfers, taking meds, and all the other tasks required for the quality of his life. We relished the simple pleasures and stayed in the moment and laughed about all the predicaments that ALS put us in. In my most tired and sad moments, I wished I didn't have to do it. I missed my brother as he used to be and how we used to be together. ALS stripped my brother's body of the ability to do the things which made him who he was in his well-life: an active father, an avid outdoorsman, an athlete, a master craftsman, a nature photographer, a serious jokester, and a man who lived life robustly.
Thankfully, we spent most of our time on the brighter side of life and did as much "adapted" living as we could. Despite his ALS limitations, Todd was the most remarkable dad to his son, a wonderful brother, a loving son, and a dear friend to many. ALS ravaged his body, but it did not touch the core of Todd's spirit and true essence.
After nine years with ALS, Todd transitioned to his eternal life on a Thursday morning in August of 2020. He died unexpectedly, remarkably gifted with a natural death without pain or struggle. God blessed Todd with the most peaceful death, and I was honored to be with him.
Grieving my brother has been the hardest experience of my life. It has been a struggle to live without Todd, a true dark night of the soul. It felt like someone opened up my chest and took a piece of my heart. I am definitely missing a piece of myself without him.
The fog of grief is lifting, and I am processing through this immersive experience in my life and reflecting. I'm healing, and from that, I am considering using my experience as a respite caregiver for ALS families. I know the stress and angst of finding compassionate, capable caregivers, and I know how much it hurts to see your loved one fighting the beast of ALS. Knowing how that feels, it would give me great satisfaction to lighten the load of another family. As my mom has always said, "Many hands make light work"; in Todd's honor, I'm thinking I'd like to be someone's helping hands.