Diagnosed with ALS at 33 – Scott Gingold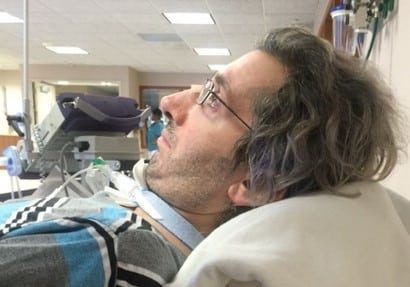 "I grew up in Stony Brook, NY, and graduated from the School of Visual Arts in NYC for computer art. I worked as a graphic designer, animator, and cartoonist. I am
married to my wife Marissa for 11 years, we have a daughter Darby.
My first symptoms were tripping and falling. I eventually went to the Stony Brook ALS clinic and was diagnosed in April of 2014 at age 33.
Currently, I'm paralyzed in all four limbs and on a ventilator with a trach and am living in a nursing home in Commack. I'm using a Tobii Dynavox eye gaze computer to communicate and I am able to stay connected online with family and friends.
I attend ALS Association Greater New York support groups via zoom and have been an advocate for disability rights and am active in trying to get laws changed by writing letters to Congress and starting petitions. It's been really helpful working with the social workers and other wonderful people at the ALS Association who have helped me through this difficult time." – Scott Gingold